For a list of all achievements, see Achievements#Achievements List.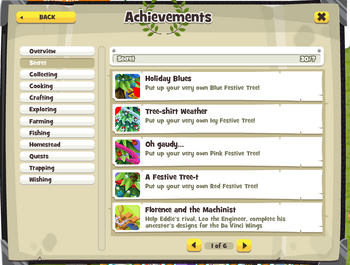 Secret Achievements are achievements that will not appear in your almanac until you unlock them. This feature was added during the September 2013 game updates but not named until the following month.
To access the list of your secret achievements, look under the Achievements section in your game almanac. Then select the button that says "Secret" from the list of categories. This will show all the achievements you've unlocked in that section.
Achievement Counter
You will be able to see a running total of your unlocked achievements in the total bar at the top of the secret achievement section. However, you will be not be able to see how many are available to unlock - the game shows a question mark in place of the overall total number.
Secret achievements do not count towards your overall achievement total on the main achievement screen.
Types of Secret Achievements
There are several main types of activities you can do to earn these achievements. Participating in seasonal events via the HBM Fanpage and building seasonal decorations, fishing, and completing quests make up the most common ways to unlock them.
After the October 17, 2013 game update, many achievements previously in the 'quests' category were moved to the secret section. The developers renamed or removed many of the quests that led up to those achievements with the early game rewrite and so newer players will not be able to earn these achievements.
Seasonal achievements will only be available to complete during the part of the year that HBM was running the special season or event. Players who were unable to participate in those events will be unable to get those secret achievements. For example, the The Hallowed Achievement will only be available to players who can log in during All Hallows' Festival in late October. Similarly, the Decorator of Death! Achievement was only given to players who participated in the Homestead contest during All Hallows' Festival.
Secret Achievement List
| # | Icon | Name | Description | Category | Access |
| --- | --- | --- | --- | --- | --- |
| 1 | | Expert Of Your Craft | Build an Expert's level Campfire, Workshop, Laboratory, and Windmill | Secret | Building |
| 2 | | Year of the Horse | Met Hongjun Laozu, Qinglong, Zhuque, Baihu and Xuan Wu and wished with the Red Envelopes they gave you. | Secret | Seasonal |
| 3 | | Holiday Blues | Put up your very own Blue Festive Tree! | Secret | Seasonal |
| 4 | | Tree-shirt Weather | Put up your very own Icy Festive Tree! | Secret | Seasonal |
| 5 | | Oh gaudy... | Put up your very own Pink Festive Tree! | Secret | Seasonal |
| 6 | | A Festive Tree-t | Put up your very own Red Festive Tree! | Secret | Seasonal |
| 7 | | Words of Warning | Listen to the Peryton Stag's Words of Warning | Secret | Retired Quest |
| 8 | | A Little Bird Told Me | You found the treasure unlocked by the Blue Robin Key! | Secret | Event |
| 9 | | Santa's Little Helper | Complete all of the tasks given to you by Santa's Magic Quill! | Secret | Seasonal |
| 10 | | Winter Wish! | Make a wish at the Wishing Well in Santa's Grotto | Secret | Seasonal |
| 11 | | Mudskippers Ahoy! | You must like Mudskippers that you caught a hundred of them, perhaps you are a Mudskipper? | Secret | Fishing |
| 12 | | Decorator of Death! | With such a ghoulish taste in decor, you are truly a Decorator of Death | Secret | Seasonal Event |
| 13 | | Let Us Give Thanks | Make yourself a Thanksgiving Feast! | Secret | Seasonal |
| 14 | | The Hallowed | Trap Jack o' Lanterns, reconstruct their cape and craft a Pumpkin Scarecrow! | Secret | Seasonal |
| 15 | | Illuminating | Helped Eddie and his son Thomas invent the Lightglobe! | Secret | Quest |
| 16 | | Millionaire | Net yourself 1,000,000 coins! | Secret | Money |
| 17 | | Fireworking Nine to Five! | Get yourself some Gnomish Fireworks to celebrate the New Year | Secret | Seasonal |
| 18 | | Professor of Logic | You mastered the puzzling Logic Trap | Secret | Quests |
| 19 | | The Hunter of Booty! | Track down No-Beard's Locked Pirate Chest and return it to him | Secret | Exploring |
| 20 | | A Cheesy Reconciliation | Become a member of the Guernsey & Chavignol Cheese Appreciate and Preservation Society | Secret | Retired Quest |
| 21 | | Sunny Side Up | Complete Chef Moustachio's first few tasks, until you fry an egg for him | Secret | Retired Quest |
| 22 | | Moustachio's Flour | Help Much the Miller's Son make Moustachio's Flour | Secret | Retired Quest |
| 23 | | Rock Lobsterator | Work with Eddie to build your first trap | Secret | Retired Quest |
| 24 | | A Bit Cagey | Work with Eddie to build your second trap | Secret | Retired Quest |
| 25 | | The Guardian of Guernsey | Resolve the Tomb Guardian of Guernsey's unfinished business | Secret | Retired Quest |
| 26 | | Habitual Line Stepper | You broke Trapper Andrew. You are a habitual line stepper. | Secret | Interaction |
| 27 | | High Society | Hand in all 3 Alchemists' References to Mister Dee | Secret | Retired Quest |
| 28 | | Around the Campfire | Work with Norris the Gnome to set up your homestead | Secret | Retired Quest |
| 29 | | What's In a Name? | Be christened with a new name more suiting to your character | Secret | Quest |
| 30 | | Sturgeon General | Catch 100 sturgeon to become the Sturgeon General | Secret | Fishing |
| 31 | | The Ugly Duckling | You found an Ugly Duckling and although it won't turn into a beautiful swan it will grow up to be a regular looking Duck | Secret | Interaction |
| 32 | | Island Hopper | You hopped all the way to Easter Island and all you found was an irate Trapper Andrew | Secret | Exploring |
| 33 | | Jacuzzi Party | Looks like you found The Duck Lady's secret Hot Tub! | Secret | Interaction |
| 34 | | So Many Questions | Collect one hundred Question Mark Butterflies | Secret | Collecting |
| 35 | | Wish for a Week of Time | Obtain a Week of Time Potion from the Nanjing Wishing Well | Secret | Wishing |
| 36 | | Wash your hands! | Have Guano, Mustelid Musk, and Pig Gas in your backpack | Secret | Collecting |
| 37 | | Fry Cook | Cook twenty five Fried Eggs, Onion Rings, Calamari, and Fish and Chips | Secret | Cooking |
| 38 | | Love is in the air | Cook five Love Cakes using Love Letters | Secret | Cooking |
| 39 | | Strong and Independent | Crush up Love Letters and make five Anti-Love Cakes | Secret | Cooking |
| 40 | | Artisan of the Elements | Craft 5 each of Eye of Elements, Frozen Sapphire, Inferno Ruby, and Living Emerald | Secret | Crafting |
| 41 | | Loved One | Collect 200 Love Letters | Secret | Seasonal |
| 42 | | The 100,000! | You are part of the first 100,000 to 'like' the game! | Secret | Limited Time/Event |
| 43 | | Rocketeer | Craft ten Rockets | Secret | Crafting |
| 44 | | Feast of St. Patrick | Caught a Leprechaun before the 24th March and found the Pot o' Gold! | Secret | Seasonal |
| 45 | | Patron of the Arts | Awarded in recognition of you kindly supporting the Ministry of Monsters! | Secret | Event |
| 46 | | The Duck Thief | You found all of Mei-Lien's missing Ducks at Qingdao | Secret | Quest |
| 47 | | Master Of All | Build a Master's level Campfire, Workshop, Laboratory and Windmill | Secret | Purchase |
| 48 | | A True Artisan | Build an Artisan's level Campfire, Workshop, Laboratory and Windmill | Secret | Purchase |
| 49 | | The Tome Raider | You really did it? Wow, you crafted the Tome Raider and recovered all of Meihui's stolen library books | Secret | Quest |
| 50 | | Double Digits | Reach Level 10 | Secret | Levelling |
| 51 | | Roaring Twenties | Reach Level 20 | Secret | Levelling |
| 52 | | Going On Thirty | Reach Level 30 | Secret | Levelling |
| 53 | | Life Begins At Forty | Reach Level 40 | Secret | Levelling |
| 54 | | Golden Jubilee | Reach Level 50 | Secret | Levelling |
| 55 | | Swinging Sixties | Reach Level 60 | Secret | Levelling |
| 56 | | Seventies Plenty | Reach Level 70 | Secret | Levelling |
| 57 | | | Reach Level 80 | Secret | Levelling |
| 58 | | | Reach Level 90 | Secret | Levelling |
| 59 | | Natural Mystic | You've invested in the occult! Place the contents of the Natural Mystic Bundle on your Homestead. | Secret | Purchase |
| 60 | | Greek Chic | You got your Greek on! Place the contents of the My Big Fat Greek Bundle on your Homestead. | Secret | Purchase |
| 61 | | Honourary Gnome | You turned your homestead into a Gnomish retreat! | Secret | Purchase |
| 62 | | I Feel Love | Somebody has a not so secret admirer! | Secret | Purchase |
| 63 | | It's not a hoax! | Catch a Wild Haggis, collect a Haggis Sack, cook some Haggis & Tatties then feed it to Nessie | Secret | Collecting |
| 64 | | Expedition Leader | You are kitted out to lead an expedition to find Rompos! | Secret | Purchase |
| 65 | | It came... from the lake! | Catch five of each of the following lake monsters: | Secret | Trapping |
| 66 | | Loyal Minion | You've done the bidding of a Ghost | Secret | Seasonal |
| 67 | | Werewolves Can't Jump... | Become Werewolf Scot's 'Bro' | Secret | Seasonal |
| 68 | | Funtime Treehouse Party! | Your turned your Homestead into one Epic Treehouse Funtime Party! | Secret | Purchase |
| 69 | | Rat Splatter! | Teach Moustachio a lesson he'll never forget | Secret | Limited Time/Event |
| 70 | | Decorator of Doom! | With such a flare for the macabre in decor, you are truly a Decorator of Doom | Secret | Limited Time/Event |
| 71 | | You Salty Dog! | Ye be a true pirate and a salty dog! | Secret | Purchase |
| 72 | | Live Like A King | You have your very own Castle! | Secret | Building |
| 73 | | Rod Aficionado | You certainly know a thing or two about rods | Secret | Purchase |
| 74 | | Santa's Savior | Complete all of the tasks given to you by Santa's Magic Quill in 2014! | Secret | Seasonal |
| 75 | | Bringer of Coal | Sack Trapper Andrew from Santa's staff and deliver him a Sack of Coal | Secret | Seasonal |