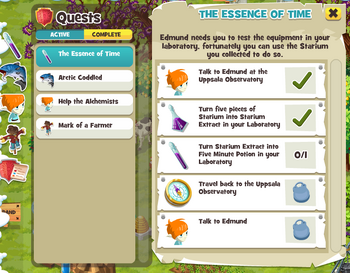 Quests are given to you by many characters in the game and drive the storyline of your adventures. All quests unlock in a roughly linear pattern - though some quests require the completion of a side quest line to continue with the main story.
New quests will appear on the top left side of your screen as icons, and in your Quest Log. To see a full list of all your available and completed quests, click on the Quest Log Icon. The icon appears under the icons of three active quests and looks like a red shield. Areas with active quests show up on your map with a purple exclamation point. If you hover over the location on the map, you will see which quest is active at that location. You are able to travel to many locations for free during quests.
Daily Quests
Daily Quests were added to the game on September 3, 2014. For more information visit the Daily Quest page.
Quest Progression
For games started before October 17, 2013, see Old Quests (London and Tutorial).
For seasonal quests, see Seasonal Quests.
The main storyline moves through Europe into the Far East and is accompanied by a series of quests surrounding several shipwrecked characters who train you to fish. Once you complete the Guardian of Stonehenge Quest Line, the quest lines split between two main tasks of preparing for the Chef of Steel Competition and working with the House of Li to stop Zhong Kui.
To show quest progression in this order, we've organized the quests based on which continent they are centered around and split the Far East section between the overarching story type.
London/Europe Quests
Tutorial Quests
Spyrion Line
Side Quests
Pirate/Fishing Quests
Nanjing/Far East Quests
Chef of Steel Quests
House of Li/Ghost King Quests
Community content is available under
CC-BY-SA
unless otherwise noted.