Farming is an activity your Folk can do at your Homestead to grow food for Cooking, Quests, Achievements or restoring your Energy.
Creating Farm Plots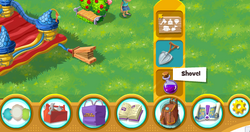 To farm, you need to create a Farm Plot on your homestead by using a Shovel and clicking on a square patch of grass. (To access your shovel, hover over your backpack in the toolbar, then click on the shovel.) You can then click on the newly made farm plot to purchase seeds, and click the patch once more to plant the seeds.
Fertilizing
When you visit your Buddies's Homesteads, you can fertilize 5 crops per buddy each day. Fertilized crops yield 15 crops, three times the normal amount, and will appear to have a rainbow above them.
To fertilize buddy's crops just click on farm plots with crops in them. Orange watering cans on the right side of your screen will show you how many plots you can water for the day.
Once you've used all five watering cans, a thank you message will show up on the screen. Your buddy will be notified that you've fertilized their crops the next time they log into the game.
Seeds
Each seed type requires time to grow into a plant that you can harvest. Below is a list of seeds with their prices and growth times.
Crops
Once the seeds are done growing, you can harvest the crops from the farm plot. Farm plots can then be re-used to purchase or plant more seeds.
If you leave your crops unattended for too long after they are fully grown, they can wither. To un-wither your crops, use a Revive Potion. Click the revive potion in your backpack to select it, then click on the crop/farm plot you want to revive. You can also clear the withered crops without reviving them, but you will lose any crops or money you used to pay for the seeds.
If you know you will be unable to collect your crops before they wither, or you want to use fully grown crops as decoration, you can apply a Neverwither Potion to each farm plot in the same way you used the Revive Potion.