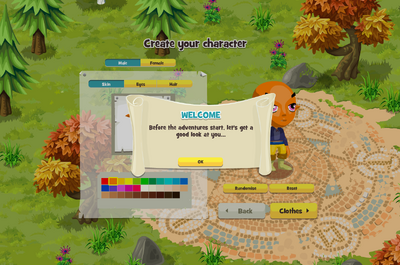 The Folk are immune to the Corruption, unlike monsters. As a Folk, you have decided to begin training to become a Trapper and cure monsters.
When you first begin to play, you are given the ability to change your appearance and create your character.
Appearance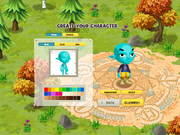 You can change your appearance after creation by clicking on your Folk and clicking "Change Folk Settings" and then "Change appearance". For more instructions, see the Folk page.
Gender
Here Be Monsters is a gender-neutral game, the gender you choose will not affect your body shape or any of the quest plots. In the 'Choose your Clothes' screen, if you have selected male you will be given options for pants. If you selected female, you will be given options of skirts. However, once in game you can purchase both pants and skirts from the Tailor Shop no matter what gender your Folk is.
Colorizing Your Folk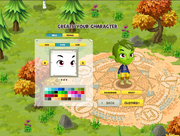 There are 32 different colors available to choose from for your skin, eyes, and hair. Toggle through these options to select your favorite color and feature combinations for free.
All the hair, eye, and skin options can be changed later in the game, but will require

or

to change them.
Once you are done, click the 'Clothes' button to continue.
Clothes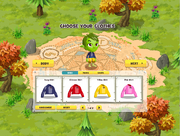 You will be given the option to choose between any available shirts, shoes and pants (for males) or skirts (for females) in the Choose your Clothes screen. All these items are free for now, so choose whichever combinations you would like.
Once you are done selecting your clothing, click on the 'next' button to choose a name. You will be able to purchase different clothing later from Tailor's Shops or through the "Change Appearance" option (for more details see the Folk page).
For a list of available clothes, visit the Clothing page.
Name
Your chosen name will be displayed in chat features, and other players will be able to hover over your Folk and see your name and status information. Simply type in your desired name and click "Done" to begin the game.
You can change your name later on by spending banknotes if you decide you do not like it, for more information on this and player Titles that appear before your name, see the Folk page.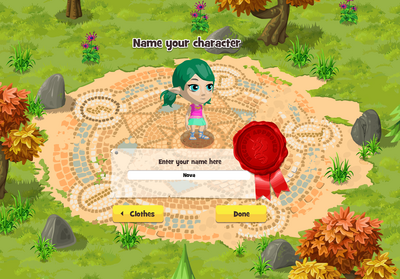 Community content is available under
CC-BY-SA
unless otherwise noted.