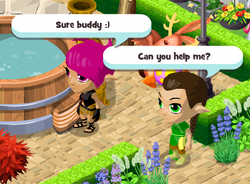 Buddies are friends who can help you progress in Here Be Monsters. To become buddies with someone, you must either request another player as a buddy or accept a request from another player. Your Facebook friends who play the game may be automatically added to your buddy list, but this is not guaranteed.
Buddy List

Players are currently limited to 100 buddies. The Buddy List button in the bottom toolbar allows you to view either all your buddies or only those who are currently online. For each buddy in the list, you always have the following options, accessible by clicking on their portrait:
Block - prevent the player from contacting you further
Gift - send the player a gift from the Free Gift list
Visit - visit the player's Homestead
Unbuddy - remove the player from your Buddy List without also blocking them
For buddies who are online, you also have the following option:
Find - bring up a map view of where in the game world the player is at that moment
Help From Buddies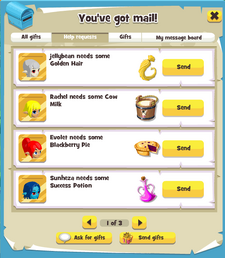 Buddies can assist you with the following aspects of the game:
Travel - Traveling to your buddies' homesteads does not cost energy.
Free Gifts - You can choose to send each buddy one gift from the Free Gift menu every 24 hours.
Requested Gifts - You can request certain items from your buddies when the items are needed to complete a building on your homestead. You can also request any item on the Free Gift list from a buddy once every 24 hours.
Gold - You will receive a thank-you gift of Coins for each gift you send to a buddy.
Chat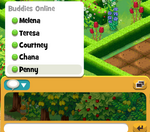 You can start a chat with a buddy without having to be together in the same place. Your buddies' names will appear in the word-balloon drop-down menu when they are online.
Community content is available under
CC-BY-SA
unless otherwise noted.