A Backpack is essential to store items in during game play. The items placed in your backpack will go with you wherever you travel. Once you collect an item it will be placed in your backpack automatically.
How To Use

To access your backpack, click on its icon in the toolbar.
Once it's open, you will be able you use or place items from it. You can also search for items in it, by name or category.
Example 1:
Apple Juice (name)
Juice (category)
Example 2:
Apple (name)
Fruit (category)
Example 3:
Apple Pie (name)
Food (category)
Selling Items
To access your 'Sell Items Icon", hover over your backpack in the toolbar, then click on the "Sell Items Icon".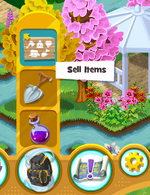 Backpack Upgrades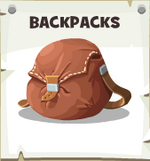 You can upgrade your backpack from any General Store, by clicking the purple Shopping bag on your homestead, or by filling up your current backpack. If you fill your backpack, you will be prompted to "Sell Items" or "Upgrade Your Backpack".
Since these are upgrades rather than new backpacks, you will need to pay the listed price for each upgrade in order to unlock the next upgrade. For instance, you will need to purchase the Day Tripper Backpack upgrade before you will be able to purchase the Weekender backpack upgrade.
Community content is available under
CC-BY-SA
unless otherwise noted.