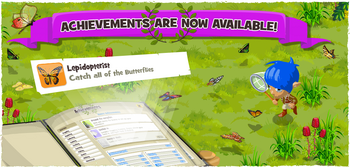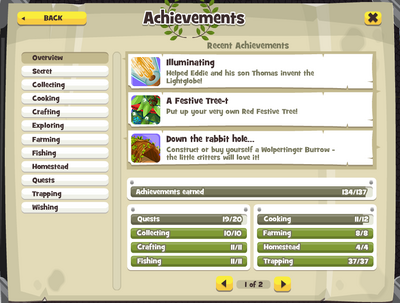 The Achievements are a game feature that was introduced on January 16, 2013 that allows your Folk to track game progress in a new way by collecting achievements. There are currently 195 achievements, not including the hidden Secret Achievements.
Achievements appear in your Almanac and are broken down into several major categories. Each item will show up with a grey background if you have not earned them yet. Once earned, you will get an award notification and the achievement will show a white background with an image.
Secret Achievements
For more details on Secret Achievements, see Secret Achievements.
Secret Achievements were added to the game on November 13, 2013. This is a list of hidden achievements. Due to changes to the game, not all of these achievements will be available to every player. They may be seasonal, removed, or only available to new players.
Achievements List
Click on the titles of the table to sort the achievement list by each category.
| Icon | Name | Description | Category | Access |
| --- | --- | --- | --- | --- |
| | Bushwhacker | Collect five of each of the following Bushes | Collecting | |
| | Pretty In Pink | Collect each of the following Pink Items | Collecting | |
| | Blossoming Beauty | Collect one of each of the following Blossoms | Collecting | |
| | Lepidopterist | Catch one of each of the following Butterflies | Collecting | Butterflies |
| | The Butterfly Catcher | Catch one hundred of each of the following Butterflies | Collecting | Butterflies |
| | Tickle My Fancy | Collect one of each of the following Feathers | Collecting | Feathers |
| | Manic Miner | Collect one of each of the following Rough Jewels | Collecting | Jewels |
| | The Butterfly Lovers | Collect the Butterflies discovered by the House of Li in the Far East | Collecting | Butterflies |
| | Black or White | Collect one of each of the following black and white flowers | Collecting | Flowers |
| | Still Got the Blues | Collect one of each of the following blue flowers | Collecting | Flowers |
| | Creep Collector | Collect ten Creep Vines and Creep Weeds, as well as fifty Starium! | Collecting | |
| | A Pink Dream | Collect one of each of the following pink Flowers | Collecting | Flowers |
| | Purple Haze | Collect one of each of the following purple Flowers | Collecting | Flowers |
| | Seeing Red | Collect one of each of the following red Flowers | Collecting | Flowers |
| | Mellow Yellow | Collect one of each of the following yellow Flowers | Collecting | Flowers |
| | Feeling Fruity | Collect one of each of the following Fruits | Collecting | Fruit |
| | Shear Barberism | Collect ten locks of Golden Hair and ten locks of Fiery Hair | Collecting | Loot |
| | Not in Bloom | Collect one of each of the following unflowered plants | Collecting | Flowers |
| | The Power of Three | Collect three of each of the following power sources: | Collecting | Power Sources |
| | Lumberjack | Collect one of each of the following Trees | Collecting | Trees |
| | Keep Away From Bluto | Create two hundred and fifty bottles of Olive Oil | Cooking | |
| | Oil Be Good | Create two hundred and fifty bottles of Sunflower Oil | Cooking | |
| | Makin Bacon | Craft the following pork items | Cooking | |
| | Self Raising Plougher | Cook one of each of the following Baked Goods | Cooking | |
| | Hiccup! | Make one of each of the following Drinks | Cooking | |
| | BBQuest | Put together a small BBQ | Cooking | |
| | Don't Forget to Floss | Spin pure sugar into ten sticks of Candy Floss | Cooking | |
| | Quackerjack | Craft the following Duck items | Cooking | |
| | Flour Power | Craft three hundred Flour | Cooking | |
| | Hold your nose! | Cook the following stinky dishes | Cooking | |
| | I Scream for Ice Cream | Craft one of each of the following Ice Creams | Cooking | |
| | Po-ta-to? | Cook one of each of the following dishes that contain Potato | Cooking | |
| | Soup Kitchen | Cook enough soup to run a soup kitchen | Cooking | |
| | Ain't that Sweet | Craft three hundred Sugar | Cooking | |
| | Sushi Chef | Prove yourself to be a Sushi Chef, an 'Itamae' | Cooking | |
| | The Finer Things | Craft twenty bottles of Red Wine and twenty bottles of White Wine | Cooking | |
| | With all the Trimmings | Fetch enough fancy festive food to feed a figurative family of five | Cooking | |
| | Master of Disguise | Craft one of each of the following Decoys | Crafting | |
| | Come On Baby Light My Fire | Craft twenty Adventurer's Torches | Crafting | |
| | The Folk Who Stare At Goats | Craft ten Alluring Goats | Crafting | |
| | Bundles of Fun | Craft the following toys | Crafting | |
| | You're A Corker | Craft one hundred Cork Stoppers | Crafting | |
| | Why Wont They Just Dye? | Create one of each of the following Dyes | Crafting | |
| | Basics: Crafting | Craft one of each of the following essentials | Crafting | |
| | Hooked | Craft fifty Fish Hooks | Crafting | |
| | Shiny Things | Polish one of each of the following Jewels | Crafting | |
| | Sticky Shogun Silks | Reclaim Enzyme Scarred Clothing from Jorojumo Cocoons and repair the Shogun's Attire | Crafting | |
| | Lures for sure! | Craft one of each of the following coloured lures | Crafting | |
| | They give you wings | Create the seven energy tonics and medicines which can be made in the Apprentice's Laboratory | Crafting | |
| | Sticky and Hidden | Upgrade the two basic Traps | Crafting | |
| | The Proclaimer | You will walk five hundred miles | Exploring | Distance |
| | Frequent Flyer | Travel ten thousand miles | Exploring | Distance |
| | Around the World | Travel twenty-four thousand nine hundred and one miles | Exploring | Distance |
| | To the Moon | Travel two hundred and thirty-eight thousand nine hundred miles | Exploring | Distance |
| | Trailblazer Achievement | Travel one million miles | Exploring | Distance |
| | Journey to the East | Complete the epic voyage tot he bustling city of Nanjing, China | Exploring | Location |
| | Spot Popper | Visit ten Spots | Exploring | Locations |
| | Beam Me Up | Visit one hundred Spots | Exploring | Locations |
| | Teleportastic | Visit five hundred Spots | Exploring | Locations |
| | I See Spots | Visit one thousand Spots | Exploring | Locations |
| | Peripatetic | Visit one thousand five hundred Spots | Exploring | Locations |
| | The Animals go in 2 by 2 | Collect two of each of the following Animals | Farming | Animals |
| | Farming Fanatic | Harvest one of each of the following Crops | Farming | Crops |
| | Top of the Crops | Harvest fifty of each of the following Crops | Farming | Crops |
| | Fortune Seeker | Harvest five thousand Clovers | Farming | Crops |
| | Vampire's Bane | Harvest five hundred Garlic | Farming | Crops |
| | Greengrocer | Harvest one hundred of each of the following Crops | Farming | Crops |
| | C is for Crops | Harvest one hundred of each of the following Crops beginning with the letter C | Farming | Crops |
| | Peter Piper picked a pepper | Harvest five hundred of each of the following peppers | Farming | Crops |
| | Tackle Master | Collect one of each of the following lures | Fishing | Lures |
| | Sea Ghost Coast to Coast | Catchy forty nine Phantom Catfish | Fishing | Fish |
| | Global Fisher-folk | Catch one of each of the 77 Fish | Fishing | Fish |
| | Boss Fisher-folk | Catch 100 of each of the following Fish | Fishing | Fish |
| | Master Fisher-folk | Catch 50 of each of the following Fish | Fishing | Fish |
| | Bigger Fish to Stir-Fry | Catch one of the each of the following Far Eastern Fish | Fishing | Fish |
| | What's the Catch? | Catch ten Fish | Fishing | Fish |
| | Codfather | Catch fifty fish | Fishing | Fish |
| | Just for the Halibut! | Catch two hundred Fish | Fishing | Fish |
| | Plenty of Fish in the Sea | Catch five hundred Fish | Fishing | Fish |
| | 99 Problems But a Fish Ain't One | Catch one thousand fish | Fishing | Fish |
| | Deadliest Catch | Catch one of each of the following Deadly Fish | Fishing | Fish |
| | Deep Sea Fisherman | Catch five Pelican Eels | Fishing | Fish |
| | Tide and Seek | Catch one of each of the following Tropical Fish | Fishing | Fish |
| | Highly A Lure-ing! | Craft 100 each of 17 Lures. | Fishing | Lures |
| | Bathtime Fun! | Draw yourself a luxurious bath | Homestead | Building |
| | Full-fledged Recruit | Build a Recruit's level Campfire, Workshop, Laboratory and Windmill | Homestead | Building |
| | Apprentice of All | Build an Apprentice's level Campfire, Workshop, Laboratory, and Windmill | Homestead | Building |
| | Ganesh Extravagance | Be extravagant and shop for a Ganesh Statue | Homestead | Purchase |
| | Cribs | Build a Mansion on your Homestead | Homestead | Building |
| | The Shimmering Botanica | Trap, Farm, and Craft your way to owning the Shimmering Botanica for your home | Homestead | Building |
| | Down the Rabbit Hole | Construct or buy yourself a Wolpertinger Burrow - the little critters will love it! | Homestead | Building |
| | Florence and the Machinist | Help Eddie's rival, Leo the Engineer, complete his ancestor's designs for the Da Vinci Wings | Quest | London Quest |
| | Ghosts of the Past | Find the Truth about the House of Li within Du Ping's memories | Quest | Nanjing Quest |
| | Climbing the Ladder | Complete sixteen tasks for the Ministry as a Private at Castle Neuschwanstein to earn the title of 'Corporal' | Quest | Daily Quest |
| | Embassy in the East | Help set up the Ministry Embassy in the Far East | Quest | Nanjing Quest |
| | Jounin's end | Work with Tanaka to make a trap worthy of capturing Warrior Monsters | Quest | Nanjing Quest |
| | In Lieu of Left Tenants | Complete twenty eight tasks for members of the Ministry as a Corporal at Castle Neuschwanstein to earn the title of 'Lieutenant' | Quest | Daily Quest |
| | Ludwig's Latest | Complete four tasks for the Ministry at Castle Neuschwanstein to earn the title of 'Cadet' | Quest | Daily Quest |
| | Suddenly, Ninjas | Calm tensions between the Ninjas and the Oni in Japan | Quest | Nanjing Quest |
| | It's a Private Matter | Complete eight tasks for the Ministry as a Cadet at Castle Neuschwanstein to earn the title of 'Private' | Quest | Daily Quest |
| | A Lesson In Comedy | Catch the devious jade-loving thief | Quest | Nanjing Quest |
| | The Bearkeeper | Help the trader brothers James and Henry safely travel from Sagres Point to Nanjing | Quest | Nanjing Quest |
| | The Charlatan | Upgrade Leo's Da Vinci Wings with Eddie's Rockets and help Leo with his studies | Quest | London Quest |
| | Master Chef | Impress Mrs Wong enough to gain the title of 'Chef' | Quest | Nanjing Quest |
| | Become the Chef of Steel | Compete and win the world-famous Chef of Steel cooking tournament | Quest | Nanjing Quest |
| | A Cold Sahara Night | Complete all the tasks for the saharan trader Shadya | Quest | London Quest |
| | Duck Hunter | Become a master of all things Duck related | Quest | Nanjing Quest |
| | The Egg-stra Mile | In the Bavarian Forests, assist Trapper Claudia once more as she tries to help the Wolpertingers | Quest | London/Europe Quest |
| | The Great Egg Hunt | Talk to Trapper Claudia in the Bavarian Forests and help her hunt down Wolpertinger Eggs | Quest | London/Europe Quest |
| | Engineering Excellence | Impress Eddie by creating crazy contraptions in the Far East | Quest | Nanjing Quest |
| | The Florentine Guard | Aid and trade with all of the merchants in Florence | Quest | London/Europe Quest |
| | Fish & Meatballs | Help the people in Inari with their daily tasks and try cooking Lihapullat yourself | Quest | London/Europe Quest |
| | Master of Vegetables | Become a true master of Eastern Vegetarian Cuisine | Quest | Nanjing Quest |
| | Meng the Terrible | Assist Yin with her ghost-hunting plan and come face-to-face with a mischievous spirit... | Quest | Nanjing Quest |
| | Escort Expedition | Escort Miranda the Mystic from Vix to Florence | Quest | London Quest |
| | Liaising with Li Chang | Represent the Ministry of Monsters by working with the House of Li for the first time | Quest | Nanjing Quest |
| | The Curse of Meng | Discover what the House of Li are really up against | Quest | Nanjing Quest |
| | The Ghost King's Fury | Try to stop Zhong Kui before he unleashes the Gui Army upon China! | Quest | Nanjing Quest |
| | Neville's Legacy | Help out Fisherman Algernon and Elsie in Oban | Quest | London Quest |
| | Spice Spice Baby | Out-spice even 'The Chan' and become a spicy cooking master | Quest | Nanjing Quest |
| | Rod of Electricity | Work with Davey to acquire the Shockwave Rod | Quest | London Quest |
| | Rod of Silence | Work with Davey to acquire the Silent Ninja Rod | Quest | London Quest |
| | All for one and one for all! | Help the Three Musketeers defend La Ferte Bernard! | Quest | London Quest |
| | Begrudging Admittance | Complete Mister Dee's mission and become a member of The Alchemists' Society | Quest | London Quest |
| | Engineering Education | Finish your Engineering training | Quest | London Quest |
| | Expecting Expeditions | Complete your first full mission with the Ministry of Monsters | Quest | London |
| | Guardian of Stonehenge | Defeat the Ruby Dragon, Spyrion, and lay his dastardly plans in Europe to rest | Quest | London |
| | Merfolk Mysteries | Help Sierra, princess of the Merfolk in Langelinie | Quest | London Quest |
| | The Ambassadors' Party | Finish helping Moustachio prepare the ambassadorial banquet | Quest | London Quest |
| | Trapper Training | Complete training, set up your homestead, and prove yourself to Bashak | Quest | London Quest |
| | Roc Star | Catch each member of the Roc family five times | Trapping | Flying Monsters |
| | Air-o-dynamic | Catch ten Flying monsters | Trapping | Flying Monsters |
| | Full of Hot Air | Catch fifty Flying monsters | Trapping | Flying Monsters |
| | All's Air in Love and War | Catch one hundred Flying monsters | Trapping | Flying Monsters |
| | Up in the Air | Catch five hundred Flying Monsters | Trapping | Flying Monsters |
| | Dragon Catcher | Catch ten Dragon Monsters | Trapping | Dragon Monsters |
| | Dragon Scholar | Catch fifty Dragon Monsters | Trapping | Dragon Monsters |
| | Dragon Expert | Catch one hundred Dragon Monsters | Trapping | Dragon Monsters |
| | Master of Dragons | Catch three hundred Dragon Monsters | Trapping | Dragon Monsters |
| | Hoof Hearted Effort | Trap ten Equine Monsters | Trapping | Equine Monsters |
| | Of Horse You Did | Trap fifty Equine Monsters | Trapping | Equine Monsters |
| | Neigh'-on-Impossible | Trap a hundred Equine Monsters | Trapping | Equine Monsters |
| | Whinny Takes All | Trap three hundred Equine Monsters | Trapping | Equine Monsters |
| | They Might Be Giants | Catch ten Giant Monsters | Trapping | Giant Monsters |
| | No Problem Too Large | Catch fifty Giant Monsters | Trapping | Giant Monsters |
| | The Harder They Fall | Catch one hundred Giant Monsters | Trapping | Giant Monsters |
| | The Big Leagues | Catch three hundred Giant Monsters | Trapping | Giant Monsters |
| | Giant Slayer | Catch each of the following Giant Monsters - remember no actual slaying! | Trapping | Giant Monsters |
| | Beastly | Catch ten Beast Monsters | Trapping | Beast Monsters |
| | What a Beast! | Catch fifty Beast Monsters | Trapping | Beast Monsters |
| | The Beastmaster | Catch one hundred Beast monsters | Trapping | Beast Monsters |
| | Last but not Beast | Catch five hundred Beast Monsters | Trapping | Beast Monsters |
| | Little Jack, Little Queen, Little King | Catch each member of the Basilisk family | Trapping | Basilisk Monsters |
| | Leprechauned | Catch seven Leprechauns | Trapping | Mystical Monsters |
| | Wolper-Tamer! | Trap 30 Wolpertingers in their natural habitat | Trapping | Nimble Monsters |
| | Beginner Trapper | Trap ten Nimble Monsters | Trapping | Nimble Monsters |
| | Jack be nimble | Trap fifty Nimble Monsters | Trapping | Nimble Monsters |
| | Jack be swift | Trap one hundred Nimble Monsters | Trapping | Nimble Monsters |
| | Jack jump over the candlestick | Trap three hundred Nimble monsters | Trapping | Nimble Monsters |
| | Nimble Souls | Catch five of each of the following Nimble Monsters | Trapping | Nimble Monsters |
| | Pebbledash | Catch ten Petrifying Monsters | Trapping | Petrifying Monsters |
| | Cobbled Together | Catch fifty Petrifying Monsters | Trapping | Petrifying Monsters |
| | How boulder of you | Catch one hundred Petrifying Monsters | Trapping | Petrifying Monsters |
| | At the top of your clast | Catch three hundred Petrifying Monsters | Trapping | Petrifying Monsters |
| | Selkie Smooth Achievement | Catch each member of the Selkie family three times | Trapping | Water Monsters |
| | Who Ya Gonna Call? | Trap ten Spirit Monsters | Trapping | Spirit Monsters |
| | Don't Cross the Streams | Trap fifty Spirit Monsters | Trapping | Spirit Monsters |
| | He Slimed Me! | Trap one hundred Spirit Monsters | Trapping | Spirit Monsters |
| | I Ain't Afraid of No Ghost! | Trap three hundred Spirit Monsters | Trapping | Spirit Monsters |
| | Odd Squad | Catch 10 Warrior Monsters | Trapping | Warrior Monsters |
| | Monstrous Platoon | Catch 50 Warrior Monsters | Trapping | Warrior Monsters |
| | Creature Company | Catch 100 Warrior Monsters | Trapping | Warrior Monsters |
| | This is Sparta! | Catch 300 Warrior Monsters | Trapping | Warrior Monsters |
| | Liver-y Company | Catch each member of the Baykok Family three times | Trapping | Warrior Monsters |
| | Centaur-ian | Catch each member of the Centaur Family three times | Trapping | Warrior Monsters |
| | Psychopomp-ous | Catch each member of the Valkyrie Family three times | Trapping | Warrior Monsters |
| | Aqua | Catch ten Water Monsters | Trapping | Water Monsters |
| | Going Swimmingly | Catch fifty Water Monsters | Trapping | Water Monsters |
| | Nobody Does it Wetter | Catch one hundred Water Monsters | Trapping | Water Monsters |
| | Water Lot of Monsters | Catch five hundred Water Monsters | Trapping | Water Monsters |
| | Making a Splash | Catch each of the following Water Monsters | Trapping | Water Monsters |
| | Werewolf Tracker | Catch both members of the Werewolf family fifty times | Trapping | Cursed Monsters |
| | Bronze Medalist | Make one hundred Bronze Wishes | Wishing | |
| | Gold Medalist | Make ten Gold Wishes | Wishing | |
| | Make a Wish... or Ten | Make ten Wishes in London | Wishing | London Wishing Well |
| | Nifty Fifty | Make fifty Wishes in London | Wishing | London Wishing Well |
| | 99 Problems But a Wish Ain't One | Make one hundred Wishes in London | Wishing | London Wishing Well |
| | Wish-tastic! | Make five hundred Wishes in London | Wishing | London Wishing Well |
| | Wish-tacular! | Make one thousand Wishes in London | Wishing | London Wishing Well |
| | Wished Up | Make ten wishes in Nanjing | Wishing | Nanjing Wishing Well |
| | I Wish My Hands Of You | Make fifty Wishes in Nanjing | Wishing | Nanjing Wishing Well |
| | Wish-le Down The Wind | Make one hundred Wishes in Nanjing | Wishing | Nanjing Wishing Well |
| | Wish Your Mouth Out With Soap | Make five hundred Wishes in Nanjing | Wishing | Nanjing Wishing Well |
| | Wished Out | Make one thousand Wishes in Nanjing | Wishing | Nanjing Wishing Well |
| | Silver Medalist | Make fifty Silver Wishes | Wishing | |
Secret Achievement List
| # | Icon | Name | Description | Category | Access |
| --- | --- | --- | --- | --- | --- |
| 1 | | Expert Of Your Craft | Build an Expert's level Campfire, Workshop, Laboratory, and Windmill | Secret | Building |
| 2 | | Year of the Horse | Met Hongjun Laozu, Qinglong, Zhuque, Baihu and Xuan Wu and wished with the Red Envelopes they gave you. | Secret | Seasonal |
| 3 | | Holiday Blues | Put up your very own Blue Festive Tree! | Secret | Seasonal |
| 4 | | Tree-shirt Weather | Put up your very own Icy Festive Tree! | Secret | Seasonal |
| 5 | | Oh gaudy... | Put up your very own Pink Festive Tree! | Secret | Seasonal |
| 6 | | A Festive Tree-t | Put up your very own Red Festive Tree! | Secret | Seasonal |
| 7 | | Words of Warning | Listen to the Peryton Stag's Words of Warning | Secret | Retired Quest |
| 8 | | A Little Bird Told Me | You found the treasure unlocked by the Blue Robin Key! | Secret | Event |
| 9 | | Santa's Little Helper | Complete all of the tasks given to you by Santa's Magic Quill! | Secret | Seasonal |
| 10 | | Winter Wish! | Make a wish at the Wishing Well in Santa's Grotto | Secret | Seasonal |
| 11 | | Mudskippers Ahoy! | You must like Mudskippers that you caught a hundred of them, perhaps you are a Mudskipper? | Secret | Fishing |
| 12 | | Decorator of Death! | With such a ghoulish taste in decor, you are truly a Decorator of Death | Secret | Seasonal Event |
| 13 | | Let Us Give Thanks | Make yourself a Thanksgiving Feast! | Secret | Seasonal |
| 14 | | The Hallowed | Trap Jack o' Lanterns, reconstruct their cape and craft a Pumpkin Scarecrow! | Secret | Seasonal |
| 15 | | Illuminating | Helped Eddie and his son Thomas invent the Lightglobe! | Secret | Quest |
| 16 | | Millionaire | Net yourself 1,000,000 coins! | Secret | Money |
| 17 | | Fireworking Nine to Five! | Get yourself some Gnomish Fireworks to celebrate the New Year | Secret | Seasonal |
| 18 | | Professor of Logic | You mastered the puzzling Logic Trap | Secret | Quests |
| 19 | | The Hunter of Booty! | Track down No-Beard's Locked Pirate Chest and return it to him | Secret | Exploring |
| 20 | | A Cheesy Reconciliation | Become a member of the Guernsey & Chavignol Cheese Appreciate and Preservation Society | Secret | Retired Quest |
| 21 | | Sunny Side Up | Complete Chef Moustachio's first few tasks, until you fry an egg for him | Secret | Retired Quest |
| 22 | | Moustachio's Flour | Help Much the Miller's Son make Moustachio's Flour | Secret | Retired Quest |
| 23 | | Rock Lobsterator | Work with Eddie to build your first trap | Secret | Retired Quest |
| 24 | | A Bit Cagey | Work with Eddie to build your second trap | Secret | Retired Quest |
| 25 | | The Guardian of Guernsey | Resolve the Tomb Guardian of Guernsey's unfinished business | Secret | Retired Quest |
| 26 | | Habitual Line Stepper | You broke Trapper Andrew. You are a habitual line stepper. | Secret | Interaction |
| 27 | | High Society | Hand in all 3 Alchemists' References to Mister Dee | Secret | Retired Quest |
| 28 | | Around the Campfire | Work with Norris the Gnome to set up your homestead | Secret | Retired Quest |
| 29 | | What's In a Name? | Be christened with a new name more suiting to your character | Secret | Quest |
| 30 | | Sturgeon General | Catch 100 sturgeon to become the Sturgeon General | Secret | Fishing |
| 31 | | The Ugly Duckling | You found an Ugly Duckling and although it won't turn into a beautiful swan it will grow up to be a regular looking Duck | Secret | Interaction |
| 32 | | Island Hopper | You hopped all the way to Easter Island and all you found was an irate Trapper Andrew | Secret | Exploring |
| 33 | | Jacuzzi Party | Looks like you found The Duck Lady's secret Hot Tub! | Secret | Interaction |
| 34 | | So Many Questions | Collect one hundred Question Mark Butterflies | Secret | Collecting |
| 35 | | Wish for a Week of Time | Obtain a Week of Time Potion from the Nanjing Wishing Well | Secret | Wishing |
| 36 | | Wash your hands! | Have Guano, Mustelid Musk, and Pig Gas in your backpack | Secret | Collecting |
| 37 | | Fry Cook | Cook twenty five Fried Eggs, Onion Rings, Calamari, and Fish and Chips | Secret | Cooking |
| 38 | | Love is in the air | Cook five Love Cakes using Love Letters | Secret | Cooking |
| 39 | | Strong and Independent | Crush up Love Letters and make five Anti-Love Cakes | Secret | Cooking |
| 40 | | Artisan of the Elements | Craft 5 each of Eye of Elements, Frozen Sapphire, Inferno Ruby, and Living Emerald | Secret | Crafting |
| 41 | | Loved One | Collect 200 Love Letters | Secret | Seasonal |
| 42 | | The 100,000! | You are part of the first 100,000 to 'like' the game! | Secret | Limited Time/Event |
| 43 | | Rocketeer | Craft ten Rockets | Secret | Crafting |
| 44 | | Feast of St. Patrick | Caught a Leprechaun before the 24th March and found the Pot o' Gold! | Secret | Seasonal |
| 45 | | Patron of the Arts | Awarded in recognition of you kindly supporting the Ministry of Monsters! | Secret | Event |
| 46 | | The Duck Thief | You found all of Mei-Lien's missing Ducks at Qingdao | Secret | Quest |
| 47 | | Master Of All | Build a Master's level Campfire, Workshop, Laboratory and Windmill | Secret | Purchase |
| 48 | | A True Artisan | Build an Artisan's level Campfire, Workshop, Laboratory and Windmill | Secret | Purchase |
| 49 | | The Tome Raider | You really did it? Wow, you crafted the Tome Raider and recovered all of Meihui's stolen library books | Secret | Quest |
| 50 | | Double Digits | Reach Level 10 | Secret | Levelling |
| 51 | | Roaring Twenties | Reach Level 20 | Secret | Levelling |
| 52 | | Going On Thirty | Reach Level 30 | Secret | Levelling |
| 53 | | Life Begins At Forty | Reach Level 40 | Secret | Levelling |
| 54 | | Golden Jubilee | Reach Level 50 | Secret | Levelling |
| 55 | | Swinging Sixties | Reach Level 60 | Secret | Levelling |
| 56 | | Seventies Plenty | Reach Level 70 | Secret | Levelling |
| 57 | | | Reach Level 80 | Secret | Levelling |
| 58 | | | Reach Level 90 | Secret | Levelling |
| 59 | | Natural Mystic | You've invested in the occult! Place the contents of the Natural Mystic Bundle on your Homestead. | Secret | Purchase |
| 60 | | Greek Chic | You got your Greek on! Place the contents of the My Big Fat Greek Bundle on your Homestead. | Secret | Purchase |
| 61 | | Honourary Gnome | You turned your homestead into a Gnomish retreat! | Secret | Purchase |
| 62 | | I Feel Love | Somebody has a not so secret admirer! | Secret | Purchase |
| 63 | | It's not a hoax! | Catch a Wild Haggis, collect a Haggis Sack, cook some Haggis & Tatties then feed it to Nessie | Secret | Collecting |
| 64 | | Expedition Leader | You are kitted out to lead an expedition to find Rompos! | Secret | Purchase |
| 65 | | It came... from the lake! | Catch five of each of the following lake monsters: | Secret | Trapping |
| 66 | | Loyal Minion | You've done the bidding of a Ghost | Secret | Seasonal |
| 67 | | Werewolves Can't Jump... | Become Werewolf Scot's 'Bro' | Secret | Seasonal |
| 68 | | Funtime Treehouse Party! | Your turned your Homestead into one Epic Treehouse Funtime Party! | Secret | Purchase |
| 69 | | Rat Splatter! | Teach Moustachio a lesson he'll never forget | Secret | Limited Time/Event |
| 70 | | Decorator of Doom! | With such a flare for the macabre in decor, you are truly a Decorator of Doom | Secret | Limited Time/Event |
| 71 | | You Salty Dog! | Ye be a true pirate and a salty dog! | Secret | Purchase |
| 72 | | Live Like A King | You have your very own Castle! | Secret | Building |
| 73 | | Rod Aficionado | You certainly know a thing or two about rods | Secret | Purchase |
| 74 | | Santa's Savior | Complete all of the tasks given to you by Santa's Magic Quill in 2014! | Secret | Seasonal |
| 75 | | Bringer of Coal | Sack Trapper Andrew from Santa's staff and deliver him a Sack of Coal | Secret | Seasonal |